Tutorial System
What is the Tutorial System?
International students often run into difficulties studying or conducting their research after they start their student life in Japan. Gunma University provides a Tutorial System for those students. A tutor and an international student pair up to conduct periodical activities. Tutors support their partner students in their studies and/or research. These tutors are paid for their activities. International students are encouraged to take advantage of this system not only to assist them in their studies but to broaden communication opportunities with many other students. This system also provides Japanese students with opportunities to make friends and study with international students. We hope you will consider taking advantage of this service.
Tutorial activities
The following is a list of basic activities of most pairs of students, although details of tutorial activities are to be decided by each international student and his/her tutor.
Tutorial activities begin in April or May for First Semester, and in October for Second Semester.
Japanese correction and guidance


The tutors check and correct Japanese in reports and homework written by international students

Homework assistance and report writing


This is another form of language assistance in which tutors help international students learn skills such as how to write reports, construct sentences, prepare for presentations, become familiar with using a Japanese library, as well as assisting international students in Japanese language.

Study support in specialized fields


It is important especially for graduate school students to comprehend the details in their specialized field of study. Various kinds of support and assistance are available for an international student from a tutor who belongs to the same seminar. These tutors are able to help the international student to fully comprehend the seminar, inform him/her about seminar rules, correct presentation of papers and reports, etc.
Application for Tutors
1. Procedures for international students who would like to have a tutor
[If you want a tutor]
Please contact the International Office in Aramaki campus, Student Support section in Kiryu campus.,
[Submit an "Application Form" by recommendation from supervisors (in April / October)]
Applications for tutors are accepted in April for the First Semester and in October for Second Semester. If you want help from a tutor, ask your supervisor to recommend an appropriate student for his/her tutor. If find, fill out an application with the tutor at the International Exchange Office (in Aramaki), or the Student Support Section (in Kiryu) by filling out an Application Form for a Tutor. Please be advised that applications are not accepted on the Showa Campus. Students on the Showa Campus should refer to the explanation in 2 that follows. Please check out this website or the campus bulletin boards periodically for further information.
2. Procedures for Japanese students who will/wish to take on a tutorial job
[If you will/wish to become a tutor]
Any Japanese student who wants to become a tutor is required to visit the International Exchange Office (in Aramaki), the International Student Section of the Educational Division(in Showa) or the Student Support Section (in Kiryu) for information.
[File an application at the request of supervisors]
The International Office requests each academic advisor who takes care of international students to select tutors for them. You may be asked to take on a tutorial job. Most tutors pair off with international students who are in his/her seminar.
Tutor Application Form1
Bank Registration Form2
class registration confirmation Form3
Monthly Report Form4
Tutor orientation
An orientation will be held in April and October before tutorial activity begins. Both international students and tutors are required to attend. At the orientation, there are announcements about who pairs off with whom and the procedures to be conducted as well as case studies of tutorial activities and training in intercultural communication.
Persons to contact regarding tutorial activities
Please feel free to consult with those whose names are listed below with regard to any troubles or problems regarding tutorial activities.
Gunma University International Center, Prof.Sonoda Laboratory 027-220-7503 sonoda@gunma-u.ac.jp
[Aramaki Campus] International Office 027-220-7628
[Showa Campus] Student Support Section 027-220-7796
[Kiryu Campus] Student Support Section 0277-30-1034
Comments from students regarding tutorial activities
What is the significance of tutoring for Japanese students?
What does a tutor mean to international students? Below are comments from past tutors and international students who received support from their tutors.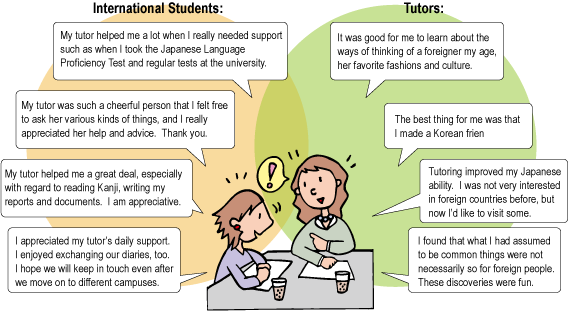 What would you do in the following this situations?
Q & A regarding tutoring activities
What would you do if you were in their shoes?