Advisory service
Do not keep your troubles to yourself! Talk about them!
Discuss your pent-up feelings with someone who cares in the counseling room!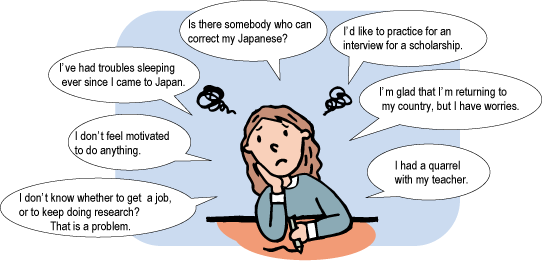 Counseling room for international students
The International Office has set up a counseling room. The staff counsels international students who have troubles and worries caused by living and studying in a foreign country as well as Japanese students who socialize with international students. Various kinds of consultations are available. Staff members are prepared to discuss student concerns about "studying", including inquiries about techniques on how to study Japanese or how to conduct everyday studying, as well as "health care consultations" such as poor physical health, insomnia, pregnancy or surgery worries, "employment consultations" dealing with making decisions about whether to get a job or to continue doing research, to return to his/her homeland or to stay in Japan, or advice on job-hunting, "mental health consultations" such as social indifference due to homesickness, etc. Feel free to visit the counseling room whenever you feel that you have no one to ask for help, or when you just want to talk with someone.
How to use the advisory service
Weekly consultations are held on the three campuses respectively. Reservation via E-mail is essential. Consultation dates and times and a contact name shall be posted on posters, international students flyer notices, the bulletin board at the Gunma University International Center and the Counselors' Laboratory.
Aramaki & Showa Campus

Aramaki: University Hall 3F, International Center,

Showa: International Student Room (Common Building 7F)

Poster
Kiryu Campus

Administrative Building (Ichigokan)1F Counseling Room 1102

 Poster
Privacy protection policy Each consultation shall be kept strictly confidential unless the student gives consent. You do not have to worry about confidentiality. You can visit any counseling room on any campus. (i.e. A Showa-campus student can visit the counseling room on the Aramaki campus.) Be sure to inform your counselor that you are from another campus.
Consultations via E-mail If you cannot come to the counseling room during the designated hours, you can consult via E-mail. Consulting staff members will try to respond to you as soon as possible.
Consultations for Japanese students Consultation for Japanese students is also available. Visit the counseling room about tutorial activities or anytime you feel anxious about going abroad to study or other pertinent matters. The counseling staff in charge of tutorial activities or who have studied abroad will talk with you.
Consultations held in places other than counseling room for international students Counseling staff members can listen to your concerns, discuss and help seek resolutions while working in liaison with the General Health Support Center and the Gunma University Hospital for physical health conditions and with the Students Counseling Room with regard to mental conditions.
Consultation on campus
Consultations outside of Gunma University