Expenses for studying in Gunma University
1.Entrance examination fee / admission fee / tuition
2.Tuition exemptions
3.Scholarships
4.Living expenses
5.Housing information
1. Entrance examination fee / admission fee / tuition
An entrance examination and admission fee are required. Having passed the examination and decided to enter the university, you will be allowed to enroll only after all of the entrance procedures (such as payment of admission fee, etc.) have been completed. You also need to pay tuition fees in order to attend classes. Below is a list of entrance examination fees, admission fees and tuition fees. (As of 2009)
| | Entrance Examination Fees | Admission Fees | Tuition Fees |
| --- | --- | --- | --- |
| Undergraduate | ¥17,000 | ¥282,000 | ¥535,800 annually |
| Postgraduate | ¥30,000 | ¥282,000 | ¥535,800 annually |
| Research Student | ¥9,800 | ¥84,600 | ¥28,900 monthly |
The times and/or periods by when these fees should be paid are as follows.
Entrance examination fee: Upon filing the application
Admission fee: Within the period specified by each department (as specified in the acceptance letter)
Tuition fee: In April and October
2. Tuition exemptions
Financial exemptions of 50 or 100% are available for privately financed students facing difficulties in meeting tuition payments. An exemption, however, is not automatically granted. Certain criteria must be met. A detailed financial plan is also required.
For detailed information about the tuition exemptions, contact the Student Support Division of Academic Affairs Department 027-220-7142
3. Scholarships
You can get scholarship information from the following website :
Website of Data on Studying Abroad
Pamphlet "Scholarship for International Students in Japan 2017-2018"
4. Living expenses
The chart below shows average living expenses for an international student at Gunma University.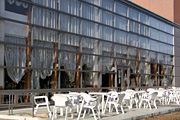 Student dining-room
Education / research
¥18,200
Meals
¥27,000
Dwelling expenses
¥20,280
Public utility charges
¥8,680
Traffic expenses
¥4,800
Insurance / medical treatment
¥2,280
Personal expenses
¥8,200
Sundry expenses
¥9,200
Total
¥98,640
(By International Division as of 2008)
The above figures are averages based on the results of questionnaire responses from several international students attending Gunma University. Living expenses differ depending on the needs of each student. In principle, living expenses in Gunma are lower than those in Tokyo. In addition, students need to pay \267,900 in tuition for six months.
5. Housing information
(1) Gunma University International Houses
Gunma University has International Houses in Maebashi (23 rooms) and in Kiryu (40 rooms) for international students. For moving in, insurance premium is required as follows:
Insurance premium
District
Room type
Amount
Purpose
Maebashi
Single
20,000JPY
Fee to allot for damage conpensation、restoration to original state and unpaid payment for utilities.
Kiryu
Single
12,000JPY
Married couple
20,000JPY
Family
20,000JPY
Common-area Charge (each month)
District
Room type
Amount
Purpose
Maebashi
single
1,600JPY
Fee for garbage disposal,common-area cleaning, consumable goods needed for communal living.
Kiryu
Single
800JPY
Married couple and Family
1,500JPY
The Single room boarding fee is \5,900/month. Each room is equipped with a desk, a bed, an air-conditioner, a refrigerator, paid LAN access and so on.
For using the Internet, each tenant must make a contract with the internet access provider.
In Maebashi district, an IH stove and a prefabricated bath are equipped in each room.
In Kiryu district, tenants share coin-operated stove burners and shower rooms.
The number of rooms is quite limited and they are not necessarily available for all applicants. The term of occupancy is for one year.
Gunma University International
Call for Applications to live in the International House are posted June and December every year.
June application is for the entrance from October and December application is for the entrance from April.
Applications at other times are accepted only when a room is available. Application forms are provided at the International Office and each faculty's administrative office, or they can be downloaded below.
(2) Private apartments
The average rent for private apartments near Gunma University is ¥20,000 ~ 40,000/month with bath and toilet in a six-tatami-mat room (one tatami-mat is 90cm by 180cm/3.3m2). You need to pay a deposit (a sum of money used for cleaning and so on after you leave) and key money (a sum of money paid to the landlord). The amounts for these payments are usually the equivalent of one or two month's rent. You need a guarantor when you enter into a rental agreement. Please refer to the section (3) when you need a guarantor. Some students do without guarantors by taking out fire insurance with the Co-op.
Rental agreements are renewed every two years.
(3) Housing Insurance: JEES Renter's Insurance for Foreign Students Studying in Japan
Gunma University (hereinafter "GU") is as one of cooperating institutions of the Renters Insurance for Foreign Students studying in Japan (hereinafter "the insurance") governing by Japan Educational Exchanges and Service (JEES).
Therefore GU is able to become a guarantor of GU students on contracting a rental room after the student registers the insurance. In this process, the student should get the permission from apartment owner/real estimate agency (hereinafter "the landlord") permits him/her to apply the insurance instead of another insurance the landlord designated.
For inquiry, ask to your pertaining faculty's student office (hereinafter "the student office"). You can also refer to the JEES's sites for the details.
How to apply;
Fill out and submit the following documents to the student office.
*Form 1 Application of GU rental apartment' insurance and guarantor
*Form 2 Pledge
Pay the insurance premium at a convenient store after receiving a payment slip from the student office. It charges JPY 4,000 yen for one year while JPY 8,000 yen for two years.
GU signs up as guarantor on a room contract after checking the insurance's payment and return the contract to the landlord. It is completed the insurance's registration and its guarantor's authorization.
GU might contact you in the case that the landlord claims to GU as the guarantee such as a payment delay and not-good living manner. Please be sure to solve the problem as soon as possible.
Keep your mind that the insurance is effective limited on your enrollment in GU. On and after graduating from GU, the room insurance and its guarantee will be expired.
This guarantee system is available for a rental apartment but not for municipal public apartment (SHIEI JYUTAKU) since city office such as Maebashi and Kiryu do not currently accept the guarantor system when you enter an apartment.